follows the lives of a group of young skateboarders in Afghanistan. Operating against the backdrop of war and bleak prospects, the Skateistan charity project is the world's first co-educational skateboarding school, where a team of international volunteers work with girls and boys between the ages of 5 and 17, an age group largely untouched by other aid programmes.
SKATEISTAN: TO LIVE AND SKATE KABUL from Diesel New Voices on Vimeo.
Skateistan: To Live And Skate Kabul is a beautifully shot film that
Adam Moran takes you behind the scene of the Dust on Crust trip to abandoned New England resorts.
There's some people we love in there.
</div>
source
Keegan Valaika interview
HUCK talks to the pro snowboarder about starting his own clothing label, upsetting soccer moms and the wisdom of David Benedek.
Interview Ed Andrews

Über-talented snowboarder Keegan Valaika first came to prominence a few seasons ago thanks his joint section with jib legend Jeremy Jones in Burton's It's Always Snowing Somewhere and adding some urban rail action to Absinthe Films' Ready.
But this
Laguna Beach
to
Salt Lake City
transplant is much more than your average scruffy-haired jib kid. Having proved he's just as comfortable hitting backcountry kickers and powder lines, he's now making moves to 'have a crack at snowboarding' with his new clothing label,
Gnarly Clothes
.
HUCK caught up with him to find out more.
HUCK: What are you up to at the moment?
Keegan Valaika: Just woke up, sitting on my porch drinking a coffee. About to start moving all my stuff out of my apartment 'cos my lease is up. I'm about to be homeless for a couple days because the place I was going to move into fell through. It's all good though, I got a tent.
(
I can provide you a home~ lol jk...
Collapse
)
PUSHING KEEGAN ON TO YOU LIKE SOME KIND OF DRUG PUSHER
INTRODUCING
Riley Hawk
DAVID LOY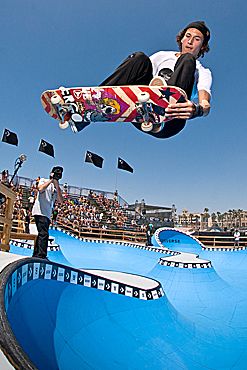 Before I start this introduction post, I want to give a little information on why I'm doing this post on David. I don't know much about skateboarding to be honest. I know the famous skateboarders, Tony, Shaun, the guys on the Dew Tour, etc, but that's about it really. But a few weeks ago, Tony Hawk and the Birdhouse team came to Milwaukee for a demo. It was my first time at a skate park, and my first time really seeing good skaters live. David almost immediately caught my attention when he started skating the bowl, and he kept it the entire time, minus when Tony was skating, because, well, when Tony Hawk is skating, it's a big deal. So when I heard that the comm was looking for posts, including introduction posts, I thought I'd introduce him to you. (Hopefully, it will prevent someone else from thinking he's Riley Hawk after seeing him.
Thanks Skate Mom who told me he was Riley.
)
And no, I'm not talking about David Loy, Zen Philosopher and Social Critic (
http://www.innerexplorations.com/catew/d.htm
)
(
The Information: Kind of sparse, there's not a lot out there.
Collapse
)
(
The Videos: Let the Man and the Skating Speak for themselves
Collapse
)
(
The Pictures: If you still need to see what he looks like
Collapse
)
Other Information: Follow David on Twitter at @Dloy1234
BIG BEAR MOUNTAIN RESORTS IS HIRING!
Hundreds of Seasonal Positions Available
Plus Ski and Snowboard FREE all Season!
Job Fairs Oct. 2 at Snow Summit & Oct. 16 at Bear Mountain
(Big Bear Lake, CA - September 30, 2010) - Big Bear Mountain Resorts (BBMR) is hiring hundreds of seasonal workers for the 2010-2011 ski and snowboard season. Join the coolest team in So Cal and enjoy great benefits and perks, including free skiing, snowboarding and lessons for employees and their immediate family members. Interested candidates can apply for a position at two upcoming job fairs: Oct. 2 at Snow Summit and Oct. 16 at Bear Mountain.
Full-time and part-time jobs are available for both indoor and outdoor positions, including ski and snowboard instructors, snowmakers, groomers, lift operators, lift attendants, food servers, dishwashers, cooks and ticket sales.
We'll be interviewing for positions at Bear Mountain and Snow Summit at both job fairs:
Saturday, October 2, 2010
8 a.m. - 2 p.m.
Snow Summit
880 Summit Drive
Big Bear Lake, CA
www.snowsummit.com
Saturday, October 16, 2010
8 a.m. - 2 p.m.
Bear Mountain
43101 Goldmine Drive
Big Bear Lake, CA
www.bearmountain.com

"If you love skiing or snowboarding and are looking for a fun winter job with some really cool perks, or you're interested in a starting a career in the ski industry, we encourage you to come out to our job fairs," said Chris Riddle, director of marketing for Big Bear Mountain Resorts. "We're hiring for all levels of experience and all positions. Don't miss out on your chance to be a part of the BBMR team as we gear up for another amazing season."
Applicants are asked to bring photo identification and proof of legal right to work. For more information, call Employee Services at 909.866.5766 ext. 140 or visit www.bigbearmountainresorts.com

Source

How cool would it be to work at a resort? Anyways if you need a job for the season and can get here...do it!
I would be so keen to be a dishwasher negl
We hear a lot about Todd Richards but let's get to know the man behind the..microphone.
He snowboards. He skates. He surfs. He's an all around bad ass.
(
Moar pics and LOTS of text!!
Collapse
)
Riders & Local Shops Join Burton for Company Meeting in Future Proto Lab
Company meetings at Burton can be pretty cool - especially when they're held the night before Jake's Fall Bash so that pro riders and local shops are in town to join. Everyone heard the latest company news and got a sneak peek of our new R&D center and museum. It's still under construction, but it'll be open to the public down the road. Lots more to come about the proto lab, but one thing we can tell you now is that it's dedicated to Craig Kelly and called the 'Craig Kelly Proto Lab.' Team riders like Terje, Danny Davis, Jussi Oksanen and others were all there to meet employees. And there wasn't a dry eye in the house when Burton Team Rider Kevin Pearce took the stage to say hi and thank everyone for their support. Next is Fall Bash. Good times for sure in Vermont this weekend.
(
More Pics (KP dudes)
Collapse
)
source
Now just what is the GNARJAR, you may be wondering.
Click the cut away and you'll find out!
(
Gnarly bro.
Collapse
)
CHEERS Sneak Peak Trailer from The People Crew on Vimeo.
A creative dozen of snowboarding's most dynamic riders come together for CHEERS, the new film by People Creative. The same crew who brought you last year's "Nice Try" team up with legends like JP Walker and Jeremy Jones alongside young wizards like Joe Sexton and Zac Marben. CHEERS bridges the gap between pedigree and potential-with a variety of talent, terrain, and locations to make this the best People movie yet. Filmed in crispy HD digital video with a wicked soundtrack, CHEERS takes viewers up-close and on-location to Lake Tahoe, Finland, Sweden, Whistler, Revelstoke, Washington, Utah, Oregon, Minnesota, and Newfoundland for a full season of good times and great snowboarding.
Riders: JP Walker, Jeremy Jones, Seth Huot, Joe Sexton, Aaron Bittner, Lauri Heiskari, Mikey Rencz, Eero Niemela, Shaun McKay, Curtis Ciszek, Zac Marben, Simon Chamberlain and special appearance by Bryan Fox.
There's also a premier list if you're interested in going :D
The video looks really... cute? (can I use that word to describe snowboarders?)
(
If you'd like to go..
Collapse
)

Keegan talks...looks flawless while doing so. He talks about Gnarly and the riders on Gnarly.

Lets all gush at how this Pro snowboarder is getting his learn on FULL TIME at college and deals with the stress of assignments and having his sponsors tell him he needs to be in Japan to film stuff.

I watched the interview but all I could focus on was his arms.

also lol "homies"